Shinji Turner-Yamamoto:
Microcosm and Macrocosm
Exhibition text by Jacquline Chao, Senior Curator, the Crow Museum of Asian Art
March 7, 2019 - April 13, 2019
Opening reception on March 7, 6-9pm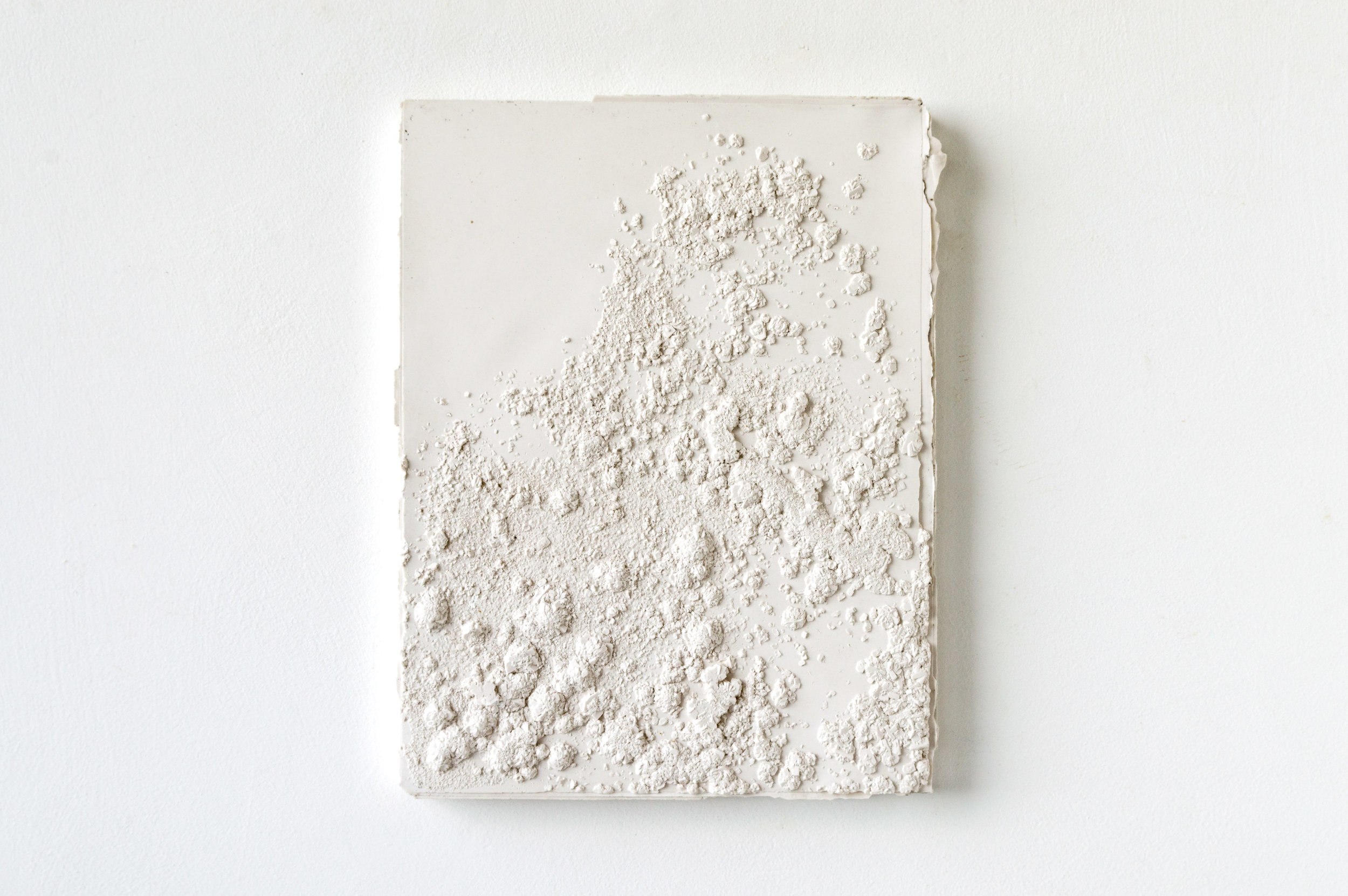 Sapar Contemporary is pleased to present the first New York solo exhibition of Japanese American artist Shinji Turner-Yamamoto. Turner-Yamamoto is known for creating paintings, sculptures, and installations that employ elemental materials such as trees, fossils, and minerals that forge profound and intimate connections with nature. The exhibition's title "Microcosm and Macrocosm" refers to a vision of the cosmos where the part (microcosm) is a reflection of the whole (macrocosm). At the core of this exhibition is his Strata and Pentimenti series, in addition to a selection of new photographs and canvases. Seen separately, each piece is a view into the universe. Taken together, the works showcase multiple perspectives on nature, time, painting, and world building, that effectively captures a sense of nature's infinitude. Here, Turner-Yamamoto's latest works reflect the artist's enduring interest in nature and landscape as a source of artistic inspiration, as well as a personal meditation on the passage of time and the inner landscapes of the mind.
While there are many ideas regarding time, how people experience time is relative, and dependent on a multitude of factors and beliefs. Some believe that time is constantly moving, and separate from space. Others might view that time and space are interwoven and cannot be separated. Some engage actively with it; some engage passively with it. The Buddhist perspective on time is that it is not real, rather it is relative to each realm of existence that each consciousness in one's mind can perceive. Shinji Turner-Yamamoto feels time both acutely and on a grand scale. As an art student, he began his artistic journey first as a collector of minerals and fossils. From then until now, these emblems and symbols of geological time have served as anchors in his creative process. His awareness of time in relationship to our bodies and our being is constant: in a recent interview, he notes how "Our bodies for instance are made up of 37 trillion cells; each preserving c.a. 500-million year old sea water. Our bodies recreate these microscopic ancient oceans that allow us to function." It is through heightened awareness and sensitivity to the intangible through the tangible that he finds inspiration for his creations. In his ongoing series Pentimenti(2010-), fossil, mineral and found objects from nature are at times integrated and used as sculptural elements. As the artist explains, the term "Pentimenti" is the plural of "pentimento", a word that describes the visible traces of earlier work that can be seen through the layers of a finished painting. In essence, in this series, he works with natural, historic and archaeological fragments and debris found from his travels and wanderings to create "sculptural paintings". Using different materials such as gold leaf, he then adds new layers onto the objects, or even cultures crystals from them, in order to emphasize their original point of time in the broader spectrum of time, as well as to essentially recreate the space they once inhabited in order to create something completely new. Most recently, he was able to create a pentimento of sand-cast brass made from a mold of frozen ice captured at a frozen creek. The mold was so incredibly delicate and intricate, the nature of crystallized ice so fleeting, it is incredible the artist was able to capture the details of the ice crystal formation.
At the core of this exhibition are recent works in the artist's Pentimenti: Strataseries. While in residence at the KOHLER Arts/Industry Foundry Residency Program in Kohler, Wisconsin in 2018, Turner-Yamamoto began incorporating slag, a byproduct of the casting process found on the ground, into his works. He felt that the material, typically considered trash and invaluable, had an ancient presence. As the artist notes in his artist statement: "Not only does slag share certain physical characteristics with such geologically timeless objects such as earth-origin volcanic rocks and celestial-origin meteorites, even one-day-old slag fragments resonate with Etruscan, Egyptian or other archaeological slag." Like the many minerals and fossils he has collected, when analyzed closely, he "began to see landscapes within them."
In this series, using hand-pouring rhythm and speed, molten metal is poured to create a two-dimensional work, where slag fragments pre-embedded onto the surface fuse with the molten brass alloy to create an image, guided by a certain flow from the slag fragments. One could make the connection to Turner-Yamamoto's past training as a fresco painter, having studied previously at the Accademia di Belle Arti in Bologna, sponsored by the Italian government, before moving to the United States. Fresco murals are created by applying pigments and painting an image directly onto a layer of wet plaster, offering a permanence and durability much favored by Renaissance muralists. Here, working with molten metal, Turner-Yamamoto is similarly able to achieve a semblance of an artist's mark or hand on a flat surface, reminiscent of the intentional act and quick absorption of ink to rice paper or canvas. A connection can be made to the aesthetics of ink painting, where there is a particular balance and momentum, and the brushstroke is given primacy. At times the scenes appear almost like a lone pine tree, or a bunch of chrysanthemum flowers in bloom. Deliberately hung like paintings, each Strata is its own spare and evocative landscape vignette, giving voice to the experience of confronting the awesome and ever-changing nature of creation.
Slag fragments have also found their way into the artist's new Irish Study canvases, which truly integrate the traditional concept of two-dimensional landscape painting with that of sculpture and ideas about time. On the canvases, slag fragments are left on the surface and over time leave markings of their presence. Recent photography further complements this process to show blown up microscopic views of ice crystals to show another different perspective, that of the infinite landscapes that can be found within the smallest of molecules. The canvases are a nod to the more traditional western European view of painting, but juxtaposed with these other works, Turner-Yamamoto moves away from a traditional landscape and of having one fixed perspective. Instead, he implements traces of slag to serve as a reminder of another time and place.
The Buddhist master, Padmasambhava, as an enlightened being, could comprehend all of time at once, and could see every moment as it really is – as both distinct and as part of a whole dimension of time. Similarly, the landscapes we see and our surroundings are also sculpted by us, and we cannot separate ourselves from the world around us. As an artist and collector of fossils and minerals, for Shinji Turner-Yamamoto, thinking regarding geological time and passage of time are constantly in focus. In this exhibition, multiple different perspectives on time and landscape are placed before us and the "traditional" is carefully, intimately, and elegantly countered. Through the application of untraditional painterly materials (slag fragments and molten metal), carefully layered fossil and crystal sculptures, abstract canvases, and blown-up photography of microscopic forms, we are presented with a robust and wider view to think about the vastness of all cosmic and universal creation. In today's fast-paced and high-tech world, Turner-Yamamoto's works could not be more timely in reflecting today's multi-faceted and multi-dimensional ways of looking, and invite a return to nature and meditative close-looking in this moment of chaos. By showing time and our surroundings as truly subjective, he posits that perhaps the connections between the past, present, and future, between microcosms and macrocosms, are actually much more fluid than once believed.
By Jacqueline Chao, Ph.D.
Shinji Turner-Yamamoto is a Japanese born U.S.-based artist known for works with identifiable imagery to encourage humanity to encounter the essential in nature and time in new and unexpected ways and is committed to using historic and natural elements in his work as meditations on the environment. He studied at Kyoto City University of Arts, and, sponsored by the Italian government, at Accademia di Belle Arti, Bologna, where he lived for eleven years. His Global Tree Project explores a poetic reunion with nature, making visible bonds and similarities between plant life and humanity, emphasizing ecological wisdom and the interconnectedness of all life. Shinji Turner-Yamamoto: Global Tree Project published byDAMIANI, fall 2012, documents 11 projects worldwide realized in a ruined folly on a cliffoverlooking the Celtic Sea, an 8th century Kiyomizu Temple Sutra Hall, a garden in New Delhi, the Mongolian Gobi Desert, and abandoned architectural landmarks in the American Midwest. His projects are About Trees, Zentrum Paul Klee, Bern, Switzerland, and Sidereal Silence, a 2016 solo exhibition for the Alice F. and Harris K. Weston Art Gallery in the Aronoff Center for the Arts selected by the National Endowment for the Arts to receive an "Art Works/Visual Arts" category grant. His work has also been the subject of solo shows at Museo d'Arte Contemporanea Villa Croce, Genoa, Italy; Crawford Art Gallery, Cork, Ireland; the Contemporary Arts Center, Cincinnati, OH; and the Ippaku-tei Teahouse, Embassy of Japan, Washington, DC. Recent site-specific Global Tree Project installations include: MONGOLIA 360°: Land Art Biennial; Hanging Garden, Holy Cross Church, Cincinnati, OH; and Disappearances, SiTE:LAB at an abandoned industrial building, Grand Rapids, MI, which received the 2011 ArtPrize International Juried Award. He lives and works in Cincinnati, OH.
Jacqueline Chao is Senior Curator of Asian Art at the Crow Museum of Asian Art. Her recently curated exhibitions include Jacob Hashimoto: Clouds and Chaos, Invisible Cities: Moving Images Asia, Hidden Nature: Sopheap Pich, and Landscape Relativities: The Collaborative Works of Arnold Chang and Michael Cherney. She has curated and organized many exhibitions at the Crow, as well as at Phoenix Art Museum, ASU Art Museum, ASU Institute for Humanities Research, Chicago Artists Coalition, and the University of Toronto Art Centre, in the areas of ink painting, Tibetan sculpture, Japanese woodblock prints, and contemporary site-specific installation, photography and new media. Her publications include journal articles, books and catalogs on Chinese art and Buddhist art, and she has presented her research at various institutions, including universities, museums, and at national and international academic conferences and symposia. She previously taught Asian Art History at the School of the Art Institute of Chicago, was Director of Exhibitions and Residencies at Chicago Artists Coalition, and contributed research to the Chinese painting collection at the Art Institute of Chicago. She holds an MA and PhD in Chinese Art History from Arizona State University, and a Honors BA in Art History from the University of Toronto.