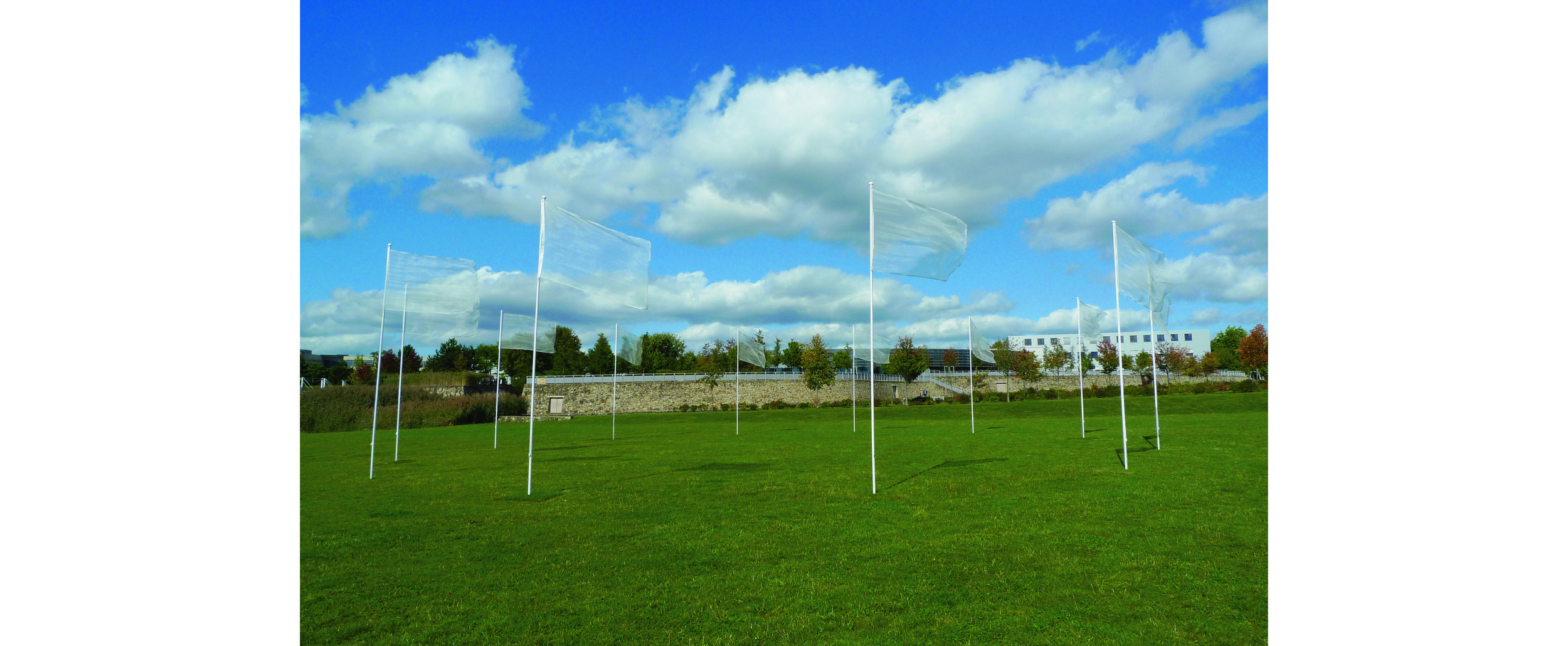 Marco Godinho
Godinho is a luso-luxembourgish artist that lives and works between Paris and Luxembourg. Godinho studied at the École nationale supérieure d'art (ENSA) de Nancy, France; École cantonale d'art (ECAL) de Lausanne, Switzerland; Kunstakademie and Fachhochschule Düsseldorf, Germany. Has concluded his MA in Typography at the Atelier National de Recherche Typographique (ANRT) in Nancy.
His work has been shown in several solo and group exhibitions, including: 2015 – Eppur si muove, MUDAM, Luxembourg; L'Éloge du temps, MUDAC, Lausanne and L'heure qu'il est, CACY, Yverdon-les-Bains, Switzerland; In/Visible, IKOB, Eupen, Belgium; The Abyss of Chronos, Centre d'art Nei Liicht, Dudelange, Luxembourg (Solo); Tous les chemins mènent à Schengen, FRAC Lorraine, Metz, France. 2014 – ArtBrussels Solo Show, Galerie Sobering, Belgium (Solo); Everydayness, Wyspa, Gdansk, Poland; Blanche ou l'oubli, Galerie Alberta Pane, Paris, France. 2013 – Invisible More Visible More Invisible, Casino Luxembourg – Forum d'art contemporain, Luxembourg and Faux Mouvement – Centre d'art contemporain, Metz, France (Solo); 11e Bienal video y artes mediales – Autonomia, MNBA, Santiago, Chile; MUUA, Medellin, Colombia (Solo); Autocorrect, Galerie Josée Bienvenu, New York. 2012 – A moment out of this time, Galerie Hervé Bize, Nancy, France (Solo); Invisible More Visible More Invisible, Neuer Kunstverein Aschaffenburg, Germany (Solo); Frac Forever, Centre Pompidou-Metz, France. 2011 – Something White, Le Mois de la Photo, Montréal, Canada (Solo); Mappamundi, Fundação Berardo, Lisbon, Portugal; Mundo Nómades, MNAV, Montevideo, Uruguay. 2010 – Marcher-Créer, Rencontres d'Arles, France. 2009 – Timeless, Centre d'arts plastiques et visuels, Lille, France. 2008 – Expérience Pommery # 5, Domaine Pommery, Reims, France. 2007 – Portugal Agora, MUDAM, Luxembourg; FRAC Champagne-Ardenne – La Chaudronnerie, Reims, France (Solo); Sublimes objets, MNAC, Bucharest, Romania and 2006 – Antipodes, Frac Lorraine, Metz, France.
Godinho is also part of numerous private and public collections, including: FRAC Lorraine, France; Luciano Benetton Fondazione, Italy; Centre d'art Dudelange, Luxembourg; Centre national des arts plastiques – CNAP, Paris, France; FRAC Provence-Alpes-Côte-d'Azur, Marseille, France; MUDAM Luxembourg; Loterie Nationale Luxembourg; Ministère de la Culture – Musée National d'Histoire et d'Art, Luxembourg; FRAC Champagne-Ardenne, France; FRAC Poitou-Charentes, France; FRAC Limousin, France and Musée d'Histoire de la ville de Luxembourg – MHVL, Luxembourg.
www.marcogodinho.com