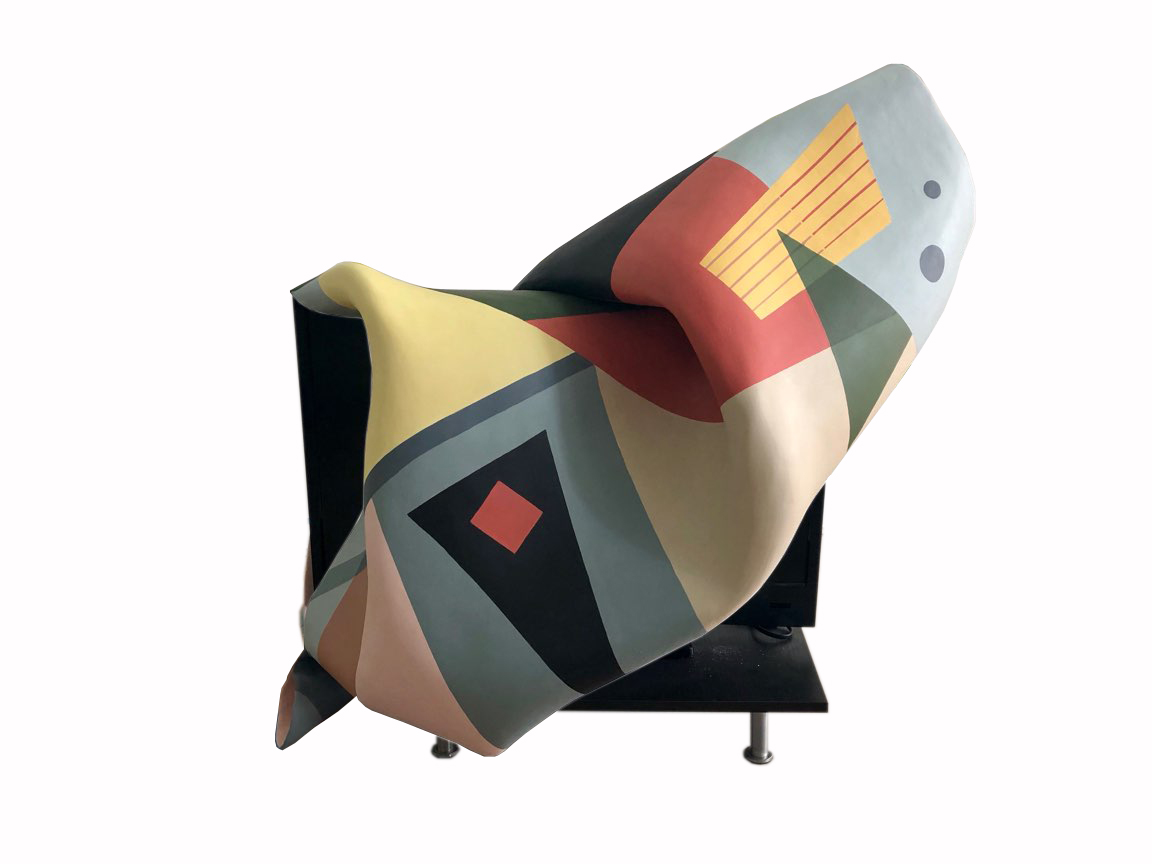 Sapar Contemporary is proud to present a solo show by Marela Zacarias titled A Street of Many Corners that includes the artist's signature sculptural wall pieces, a free-standing sculptural video piece incorporating the 1999 Tim Robbins-directed film Cradle Will Rock about a group of actors uniting against censorship at the height of the Great Depression; as well as a wealth of research material related to early abstract painting in New York and other influences in her work. This exhibition continues a line of investigation that began with the artist's 2013 Brooklyn Museum exhibition. Here again, Zacarias looks back at the 1930s generation of abstract painters and the socio-political context of the time. Zacarias, who emerged as a muralist before turning to abstraction, continues to be interested in the early beginnings of abstraction in New York and through this exhibition brings into the conversation the work of Alice Trumbull Mason, one of the often unsung founders of the American Abstract Artists.
Zacarias immersed herself in the world of early abstraction while organizing Alice Trumbull Mason's archives at the studio of Emily Mason, Alice's daughter (also an abstract painter). Trumbull Mason helped to found the first group of abstract artists in America along with Ilya Bolotowsky Ibram Lassaw, Albert Swinden, Balcom Greene at a time when social realism occupied the primary mode of political expression through art. Despite her huge influence on American art, Trumbull Mason's life and work have remained largely unnoticed by an art world that has historically favored male painters. The exhibition borrows its title from a small abstract canvas by Alice Trumbull Mason that Zacarias has chosen as a source of inspiration for her own mural. "By paying a tribute to Alice I hope to make a small contribution to telling a more complete story about the beginning of abstract painting in New York." The exhibition in turn explores Zacarias' own evolution from a socially engaged muralist of the great Mexican tradition to an artist who constantly innovates through abstraction by bringing in her research in the history of abstraction, anthropology, historic textiles and pottery, and cultural history of Central America and Middle East.
Omar Lopez-Chahoud writes about the artist's approach: "Marela's work is informed by a constant investigation and research of historical moments that are revisited and re-contextualized to address current social and political issues.The history of abstraction is successfully integrated in her sculptures and murals to provide a new interpretation of symbols and geometric forms that are in many cases connected to Pre-Hispanic forms and patterns in Middle Eastern textiles, both intrinsic to her personal history. The subjective takes over the objective, and we start to see a set of codes and meanings that overlap to facilitate a visual structure providing a platform for a contemporary discourse."
Marela Zacarias works with a labor-intensive process that merges sculpture with painting. She fabricates forms out of wire screening attached to wooden supports or found objects to which she applies layers of plaster to create undulating forms. Through sanding, polishing, and painting, she creates sculptures with the quality of fabric, filled with movement and expressive quality. She then paints the sculptures with original patterns and geometric abstract shapes that are inspired by her research. Her work is characterized by an interest in site specificity, socially committed history and current events. Zacarias' exhibitions include solo exhibitions at the Brooklyn Museum and at the Brattleboro Museum, Vermont and has participated in group shows at BRIC, Museo de Barrio, No Longer Empty and Y Gallery among others. Zacarias is well known for her signature large-scale installations, including commissions from The Sea-Tac International Airport in Seattle, the American Consulate in Monterrey, Mexico and the William Vale in Brooklyn, NY. Her murals can be found in Washington DC, Virginia, Connecticut, Ohio, Mexico and Guatemala. She was profiled in the Art 21 New York Close Up Series. Zacarias received her BA from Kenyon College and her M.F.A. from Hunter College, New York. She lives between Brooklyn, NY and Mexico City.
Omar Lopez-Chahoud has been the Artistic Director and Curator of UNTITLED. since its founding in 2012. As an independent curator, López-Chahoud has curated and co-curated numerous exhibitions in the United States and internationally. Most recently, he curated the Nicaraguan Biennial in March 2014. López-Chahoud has participated in curatorial panel discussions at Artists' Space, Art in General, MoMA PS1, and the Whitney Museum of American Art in New York City. López-Chahoud earned MFAs from Yale University School of Art, and the Royal Academy of Art in London.