Abstracting Materiality:
Wyn-Lyn Tan and Roya Farassat
Essay by Beth Citron, Curator of Modern and Contemporary Art Rubin Museum of Art
November 16, 2018 – December 20, 2018
Opening reception on November 16, 6-8pm
Artsy Preview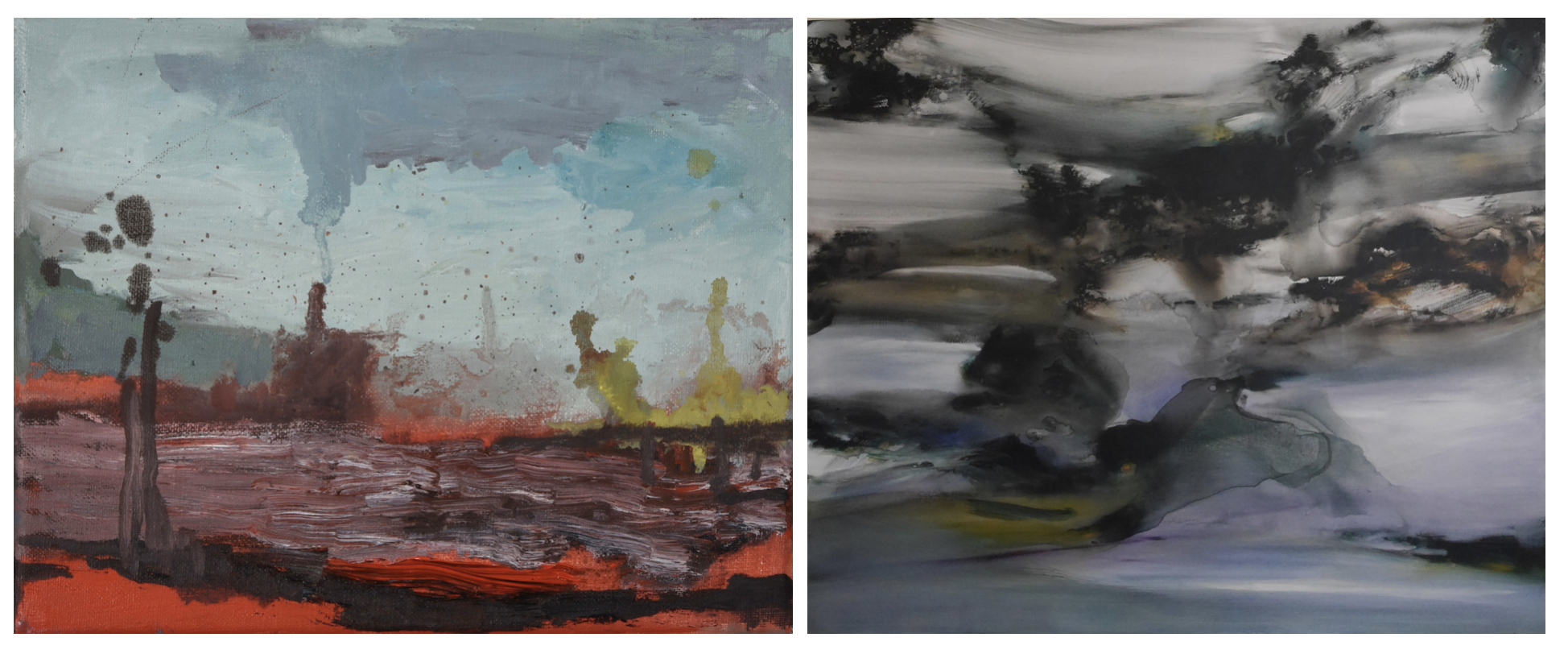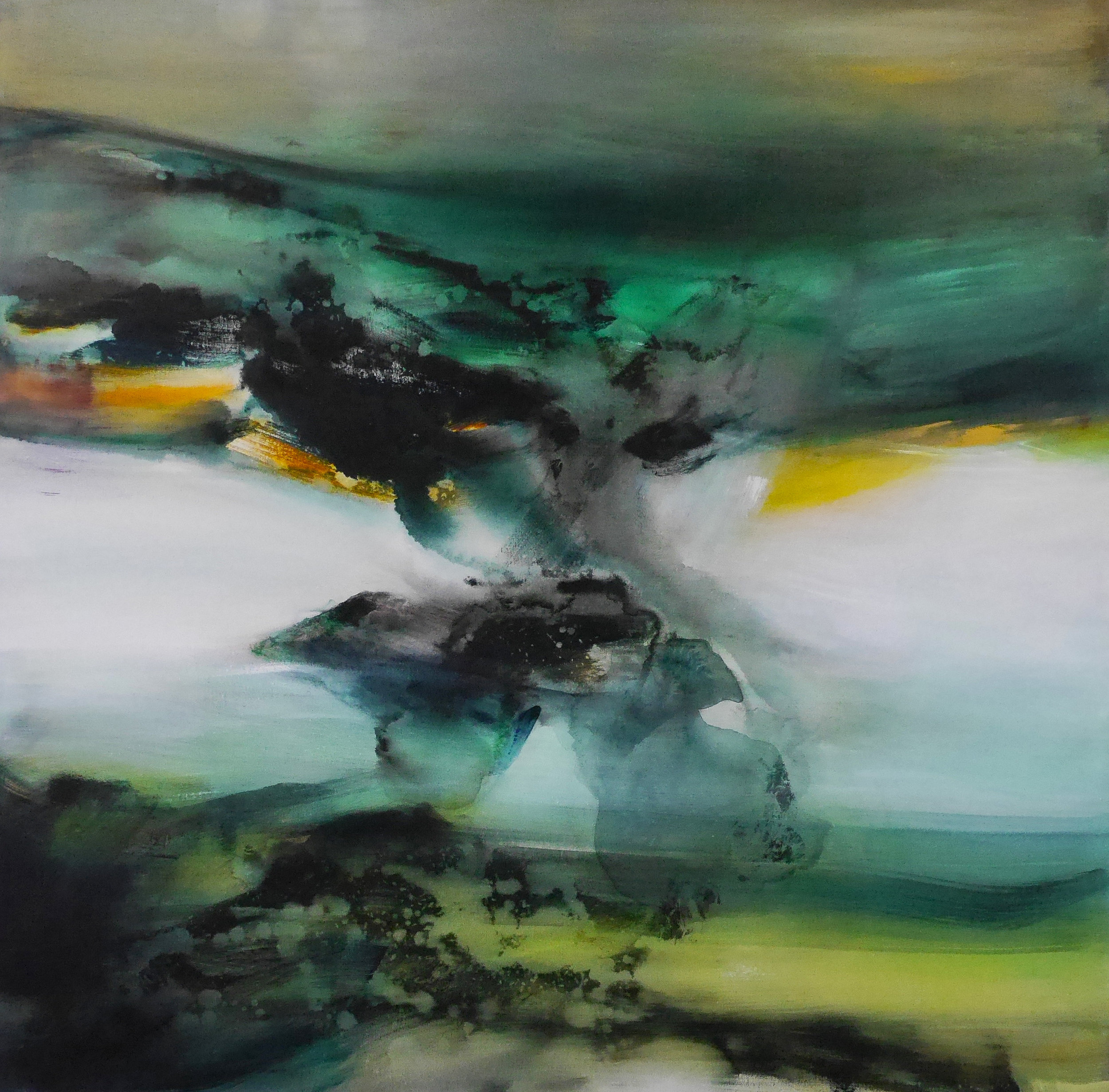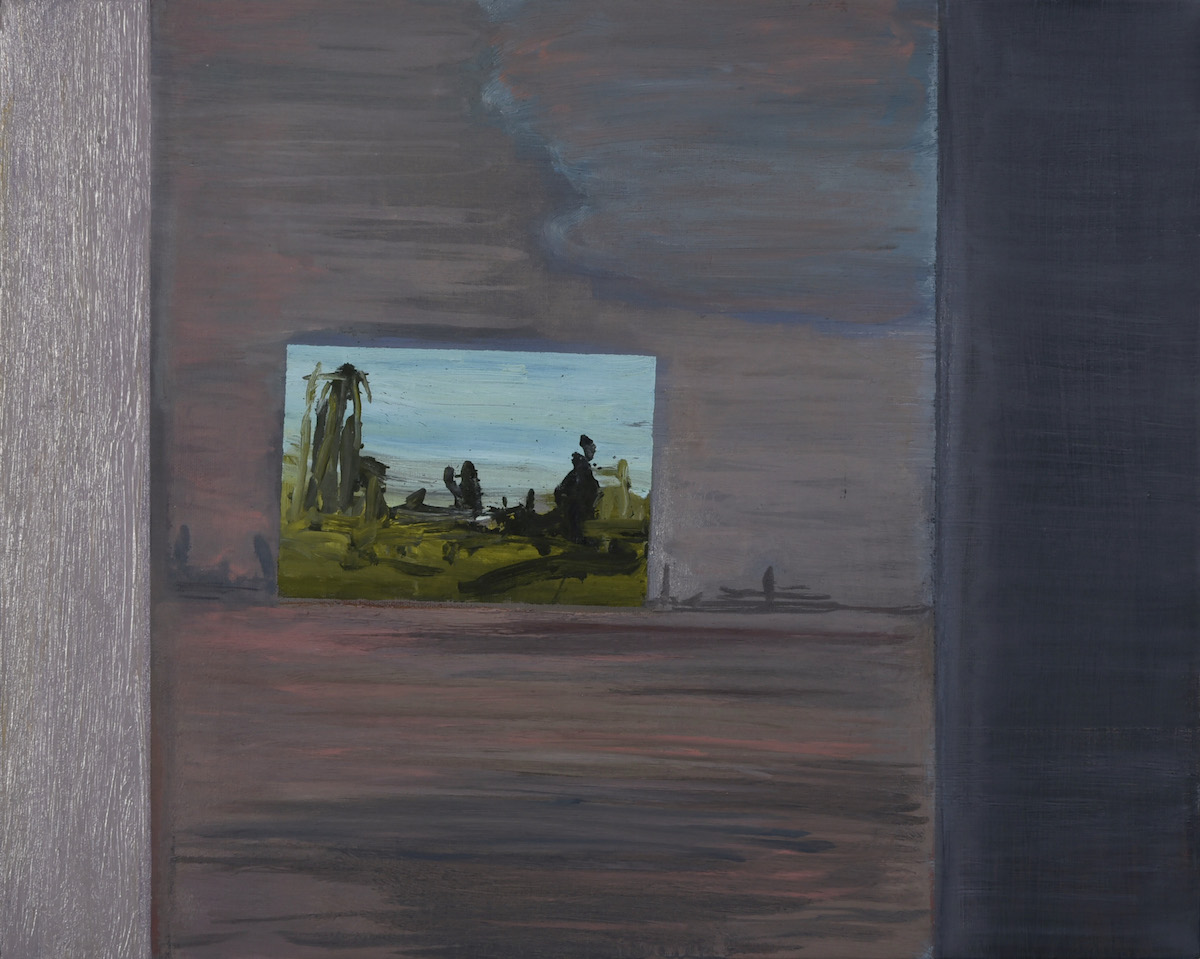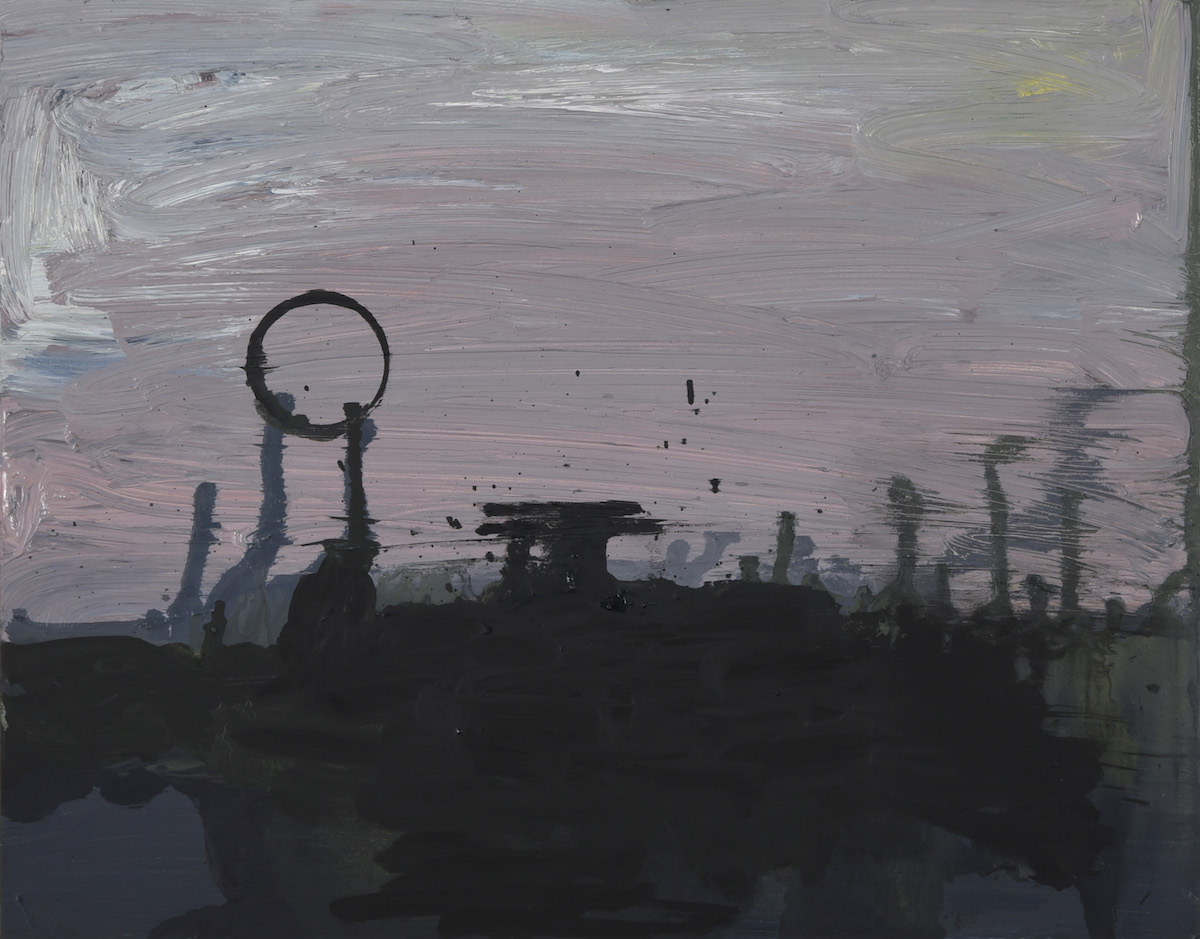 Sapar Contemporary is proud to present a two-person painting exhibition of Wyn-Lyn Tan (Singapore) and Roya Farassat (Iran/US). In the work of Wyn-Lyn Tan and Roya Farassat, tornadoes, horizons, and faces emerge and disappear, with the tension between recognition and mirage building as one moves among sets of their works and each other's. For both artists, a dialogue between representation and abstraction is at the fore of their practice, with each transforming echoes of material reality into independent worldviews created by layer upon layer of paint.
Through their wide-ranging cultural and intellectual biographies, Tan and Farassat imagine the ends and range of Asia, stretching physically and conceptually from the borders of northern Finland to central Singapore, and across Iran and China, while still holding geography as a construct and itself an abstraction. Singapore-based Tan studied traditional Chinese painting as a corollary to her primary education in Western art, and later began extensive travels to remote Scandinavia, including to the Arctic Circle. There, in the ever-present horizon near the North Pole, she noticed affinities between the Romantic sublime and the spare aesthetics of Chinese landscapes, and created a visual vocabulary that connects her experience in two seemingly dissonant places. Even while working in Singapore, Tan creates a physical connection to site and, perhaps unexpectedly, to nature; the series I See Mountains (2018) is painted on reclaimed tropical wood that the city-state would have otherwise discarded (the material transformation, too, a visual and semiological abstraction).
Farassat, who was born and raised in Iran and works in New York, references decoration and ornament in her work, quoting and challenging the cultural expectations of her heritage through the planar and geometric forms seen in the landscapes in Abstracting Materiality. In earlier bodies of work, this tension was more explicit as she humorously adapted compositions familiar from the history of imperial Persian painting, with ornamental elements framing abstracted but legible portraits.
Both Tan and Farassat engage painterly gesture and approach abstraction to consider subjects seen and felt in the material world. They diverge, however, in that Tan's process can be characterized as subtractive, while Farassat's is additive. Tan's large-scale canvases are composed of five to nine layers of acrylic wash and are developed horizontally, their ground on the ground. As Tan moves around the canvases, she paints one mark, and after a pause removes the same with a clean brush, the final trace a 'ghost' of the relationship between creation and erasure. Reoriented to the wall, Tan's technical and rhythmic improvisation and the intimacy of her hand are simultaneously revealed. Midnight (2018) moves between inky darkness and translucent light, with an absence of form privileging the act of mark making and seeming to define the work's positive and negative spaces. Navigating Malachite (2018) alludes somewhat more overtly to a landscape-like horizon, while remaining defined principally by the rich color of the work's title. Together, however, the two works suggest a slippage between image and illusion, each enriching the other's ambiguity through the primacy of gesture.
Farassat's gestures move people, places, and moments from naturalism towards their perceptual center. Her oil-based works are heavy with layers of paint, taking on an almost sculptural dimensionality. In Night (2018) a large shadow fills the center of the canvas, evoking the feeling of a boat meeting a dock in darkness, while Untitled, from the series "Pilgrimage" (2018) uses a related manner to suggest the movement and residue of a tornado across a verdant landscape. Untitled 2, from the series "Samsara" (2018) extends Farassat's conception of abstraction further by inserting a small landscape onto what would be the horizon line of a geometric composition, a quotation of another ongoing body of her landscape paintings at postcard scale.
Farassat's series The Forgotten Children (2013-14) complements her approach to landscape by privileging key and sometimes exaggerated features to create personalities rather than portraits. Forming a family of disaffected characters, these range from descriptive to impressionistic. Staring Eyes, for example, looks at us to express a sense of melancholy, while the edges of the head seen in The Other Side bleed into the background as he looks on.
While on first viewing, Tan and Farassat's works may lean in one direction towards or away from abstraction, closer looking betrays initial judgment to hold their works in an uncategorized dialogical tension. In their references to landscape, to nature and its forces, and to the personalities inhabiting the world around us, both artists invite a discernment of process and material, together forming new perspectives of painting that reference the world across Asia and New York today.
Wyn-Lyn Tan (Singapore) has developed a contemporary visual vocabulary that straddles East and West and is driven by a fascination with remote natural landscapes connecting across time and culture. She works with painting, installation and video. She has shown in numerous solo and group exhibitions, and her work can be found in the permanent collection of the Singapore Art Museum. Her latest exhibitions include Sea Glass III at Østfold Kunstsenter (Norway), Home as an Irrevocable Condition at Sapar Contemporary gallery, Art Basel Hong Kong (Hong Kong) 2017, and Odyssey: Navigating Nameless Seas at Singapore Art Museum (Singapore). She was also invited to present a collaborative performance Ode to Light at ArtiJuli 2017, Kråkeslottet Senja (Norway). She has been awarded residencies at Red Gate Gallery, Beijing; Fiskars Artist Residency, Finland, Vermont Studio Center; The Arctic Circle Residency; Herhusið, Iceland, and Inside-Out Art Museum, Beijing. She holds an MFA from Kunstakademiet i Tromsø (2017).
Roya Farassat is an Iranian American painter and sculptor. She was awarded residencies from Henry Street Settlement and Makor at Steinhardt Center and was nominated for the Jameel Prize and Magic of Persia Contemporary Art Prize in London. Farassat's work has been widely exhibited, including exhibitions at the Queens Museum, Albin Polasek Museum, Ormond Memorial Art Museum, Villa Terrace Decorative Arts Museum, The Taubman Museum, The Edward Hopper House Museum, Scope Miami Art Fair, Asian Contemporary Art Fair. The Boston Globe, The New York Times, Art Critical and Hyperallergic have reviewed Farassat's work. She hold a BFA from Parsons School of Art and Design. Roya Farassat resides with her family in New York City.
Beth Citron is the Curator of Modern and Contemporary Art at the Rubin Museum of Art. Her exhibitions for the Rubin Museum have included A Lost Future: Shezad Dawood / The Otolith Group / Matti Braun (2018), Chitra Ganesh (2018), Henri Cartier-Bresson: India in Full Frame (2017), Genesis Breyer P-Orridge: Try to Altar Everything (2016), Francesco Clemente: Inspired by India (2014), Witness at a Crossroads: Photographer Marc Riboud in Asia (2014), and the three-part exhibition series Modernist Art from India (2011–13). She completed a PhD in the history of art at the University of Pennsylvania in 2009, where her dissertation focused on art in Bombay (now Mumbai) from 1965-1995. Her research has been supported by Fulbright and FLAS fellowships. She has taught in the Art History Department at New York University, from which she also earned a BA in fine arts.